Chapter 6
Case Study #2 - Wistia
Wistia is quietly becoming the go to SaaS provider for professional video hosting and superior video marketing analytics. They offer high quality video hosting and tools to help companies drive customer engagement and measure video performance, along with tons of useful articles and how-to guides to help companies produce great videos. In 2015 alone, Wistia videos received over 1 billion plays.
In part because their product revolves around video, Wistia eschews a number of SaaS marketing site conventions in order to emphasize video. To start, their homepage basically was one big autoplaying and looping video, with a call to action to watch a longer and full-screen video. We looked at 30 SaaS sites in total and none of them used video in this way—and this was only one of a number of design quirks.
Lead by UserTesting.com, we asked users to explore the Wistia site and perform a series of tasks from explaining the product to choosing a plan, all based on what they could glean from the marketing site—and we recorded their whole experience to video. These users had never been to wistia.com before the UserTesting.com session, so we got to watch a fascinating experiment unfold in exploring an original SaaS site with fresh eyes. We saw where users got tripped up and confused by atypical design patterns but also where they were delighted and captivated by them.
Homepage: Ease of Information
When asked how difficult or easy it was to understand the information on Wistia's Homepage, the average user rating was 4, on a scale of 1-5 [1=very difficult, 5= very easy].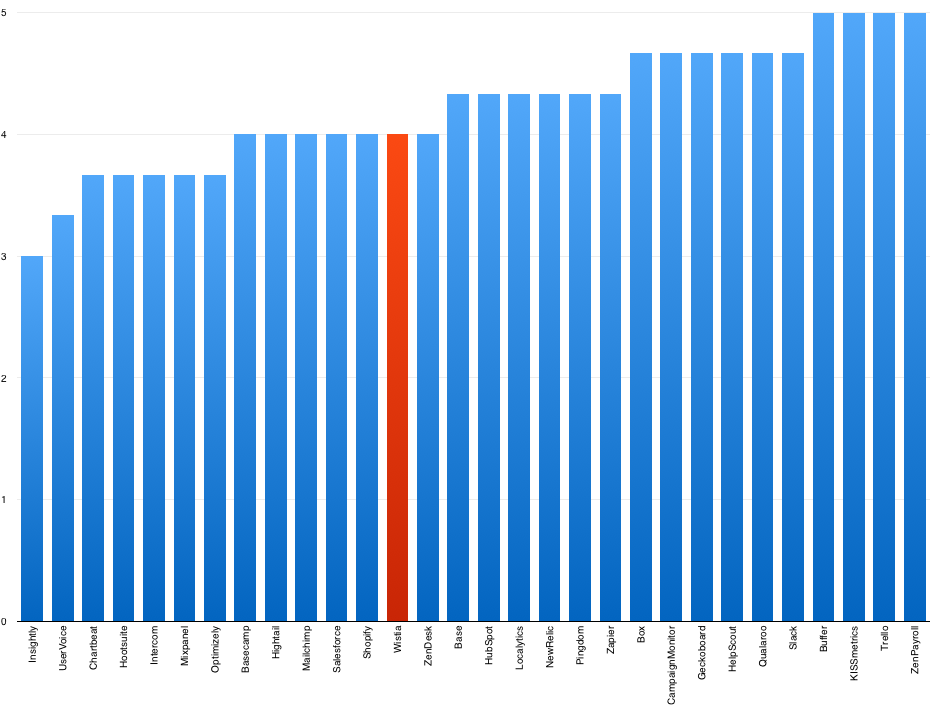 33% of homepages we analyzed featured videos, but none used video in the way that Wistia did. The video on Wistia's homepage essentially was the homepage.
When users landed on Wistia's homepage, they were greeted by a full-screen, autoplaying and looping video clip of employees messing around in front of a camera with the tagline: "Business Smarts Meets Video Smarts." A blue play button in the middle of the screen was the call-to-action to watch the full video, which filled the entire screen. It gave an overview of some of Wistia's features and ended with a link to their product page.
Users invariably thought this layout made the homepage unique and engaging. The motion and action in the autoplaying video grabbed the user's attention. That the video emphasized smiling people made the company feel personal. Altogether, Wistia's homepage was rated the most engaging of any sites we analyzed.
However, that engagement didn't translate into understanding. Although the play button was front and center on the page, the looping video clip on the homepage might have led users to think they were already watching the full video. One user said she liked that Wistia had a unique website, but that she found it difficult to understand—"cool, but confusing" in her words.
None of the users initially clicked to watch the video. When prompted, people understood that the homepage was guiding them to click on the video, but when they wanted to learn more about Wistia on their own they tended to browse elsewhere, going to the "Menu" or "Learn" buttons in the navigation bar instead.
Although users gave Wistia's homepage a good rating in terms of understanding, even after watching the video none of them understood from the homepage that Wistia was first and foremost a video hosting platform, and struggled when asked to define Wistia's product in their own words. One user ended up having hard time understanding what Wistia actually did throughout the entire UserTesting.com experience, and stated that she wished there was clearer information right from the start.
Quotes from the responses:
"It probably wants you to hit play on the video which actually was not super obvious to me. It wasn't super obvious to me, but then you go onto the menu, where you can see the prices and features."
"The homepage is definitely engaging…I would like to click on the play button and listen to what they're saying, looks like they're having a great time."
"The homepage—I have no idea but it looks like it's fun, kind of a little nerdy, and that's not a bad thing."
"Overall I guess I'd say they do video marketing for companies. I would say it was kind of difficult to say what they did only because it wasn't on the main page."
Pricing Page: Picking a Plan
After users spent some time playing with the pricing page, they were asked about how useful they found the information on Wistia's various product offerings, giving it an average 3.3 rating on a scale of 1-5 [1=not useful, 5=very useful].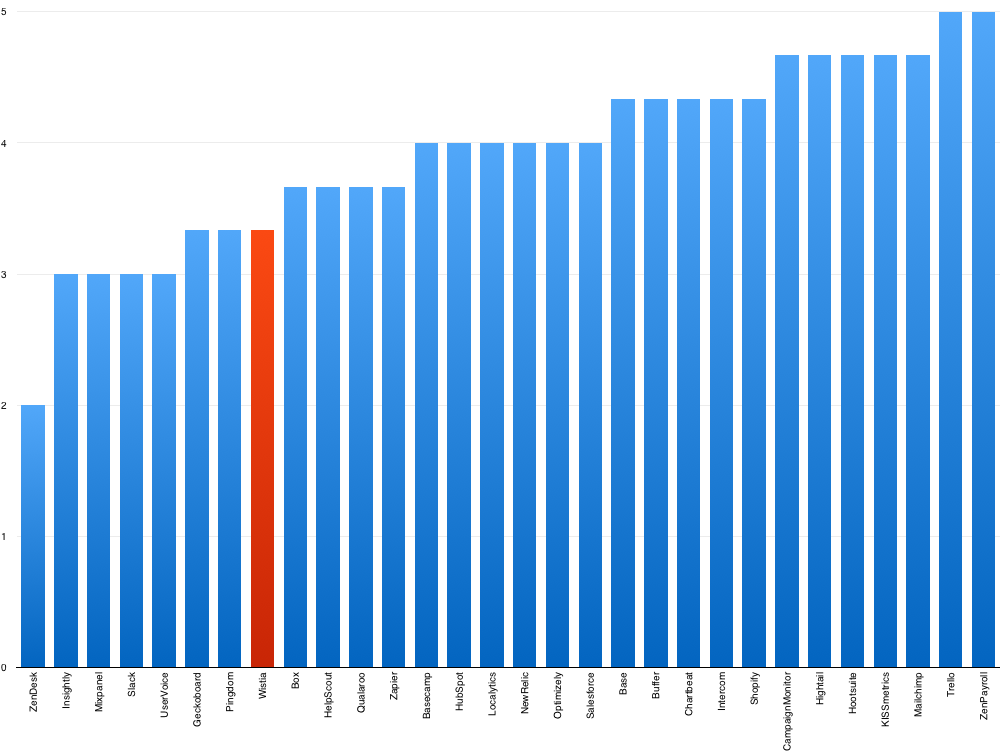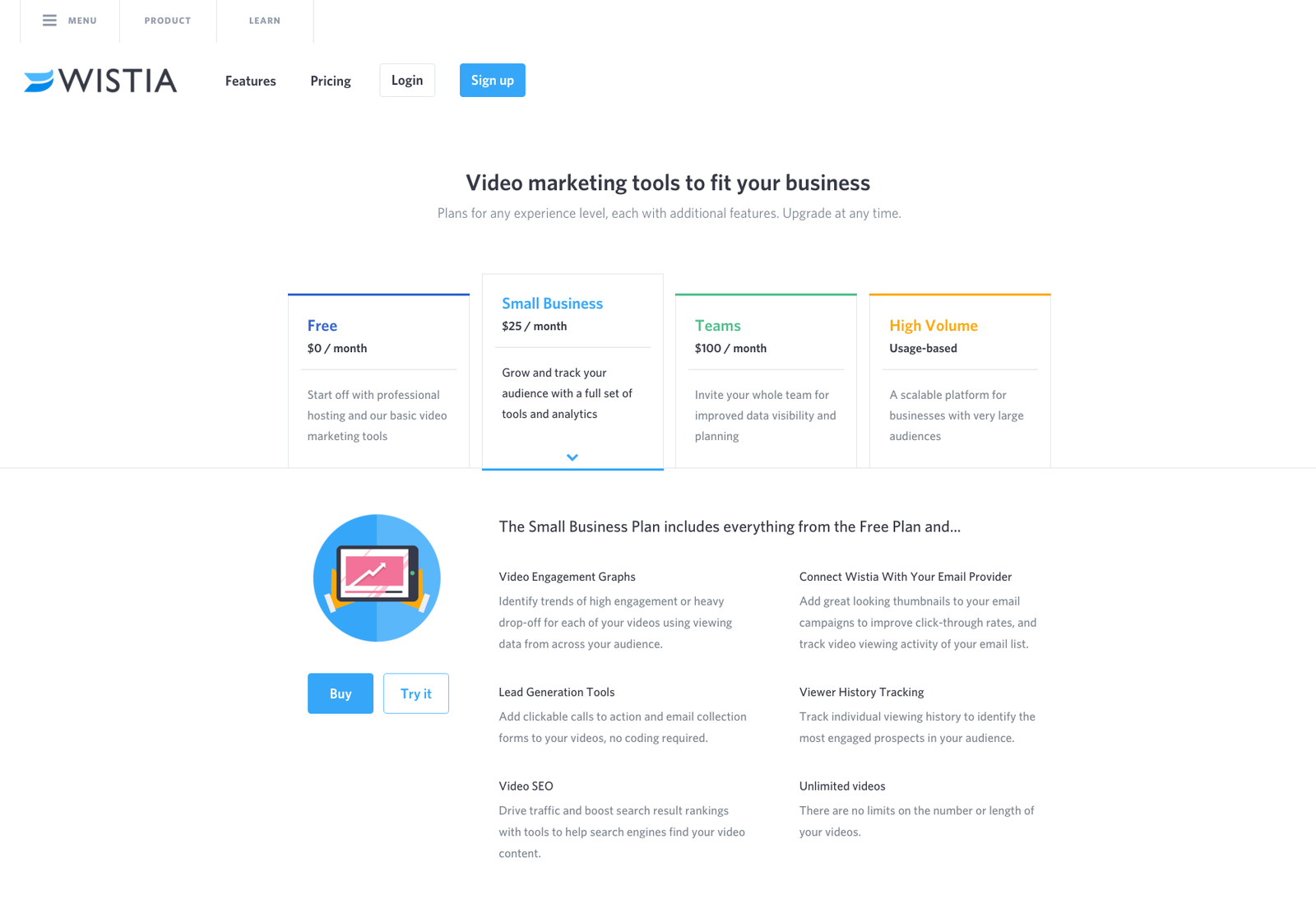 Wistia's pricing page offered four plans—Free, Small Business, Teams, and High Volume. The plans progressively added new features as the price increased, and a highest level "enterprise" plan included all the features along with the price tailored to bandwidth usage. Users could click on different plans to get more details about different features.
Users liked the option of a free plan, which made them inclined to sign up and try out Wistia. Users who worked for small businesses immediately identified with the "small business" plan option. They also liked this plan's low price point and video analytics features.
Still, users gave Wistia's pricing page a low rating relative to other sites. Each plan had a high-level description of its benefits—however, users felt that the descriptions were too high level. The Small Business plan's description read, "Grow and track your audience with a full set of tools and analytics," which one user described as "fluff."
When users clicked on the different plans they saw fairly detailed descriptions about what features would do for their business. They were interested in these features, but wanted a concrete description on how Wistia would actually deliver the on the value promised. For instance, one user loved that the Small Business plan had Video SEO features, but he described its description that it "drive[s] traffic and boost[s] search result rankings with tools to help search engines find your video content" as "vague." He tried to click on the feature to learn more, but there was no hyperlink to more information.
The pricing page included a FAQ-style section at the bottom which answered questions about the free plan and bandwidth limits. Only one user considered bandwidth when evaluating the plans, and he played around with a slider at the bottom of the pricing page to estimate monthly bandwidth usage. Although the user liked this feature, he didn't find the breakdown of Wistia's Video SEO features there, where he had hoped to find it.
Quotes from the responses:
"This [Small Business Plan] is a great plan. First of all, I don't have to jump in and start spending a $100 a month, and second of all, I do like the video engagement graphs and the feedback it gives me. All that is awesome."
"Yeah, this seems like a lot of fluff words like grow and track your audience with a full set of tools and analytics."
"I'd like to know why or how [the features work]. Tell me why each one does what it does as opposed to just saying it's going to do it."
Organization: Ease of Navigation
To test Wistia's marketing site for ease of navigation, we asked users to find the product, service, or plan that would best suit their work needs, and to rate it on a scale of 1-5 [1= very difficult, 5 = very easy]. Users gave Wistia a 4.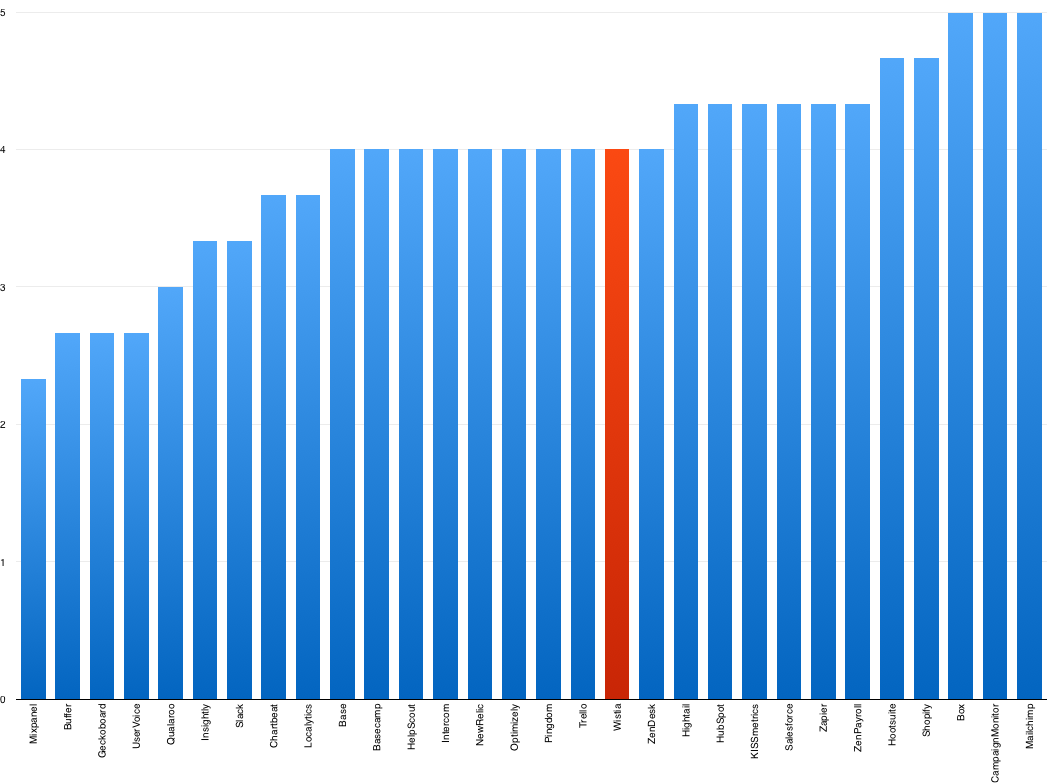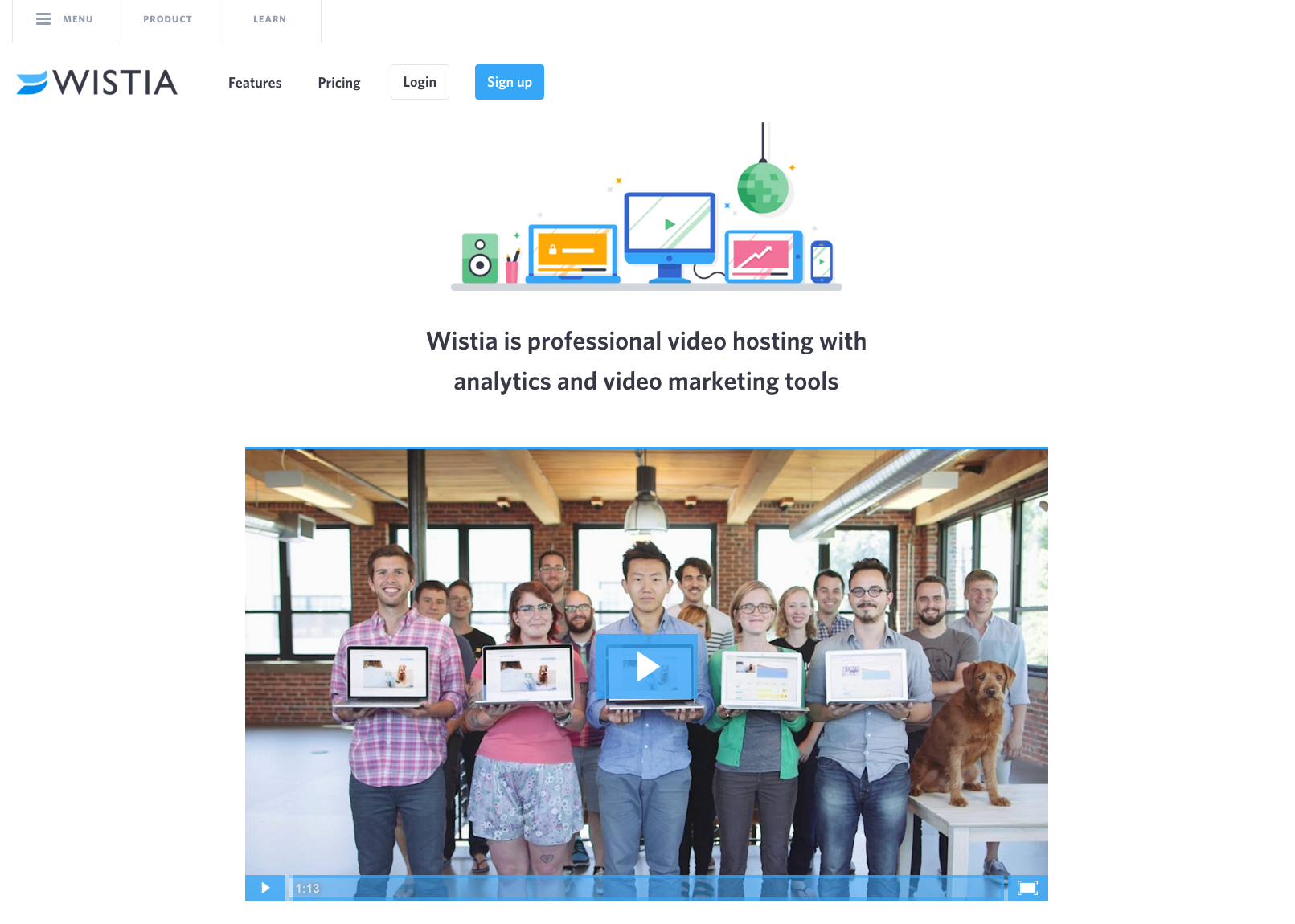 In general, users said it was easy to navigate Wistia's website, but their actual behavior revealed a couple points of confusion at key points in the funnel. The first was when users were asked to explore the website and find out about the product, and the second was when they were asked to choose a plan that suited their needs. Although the website was simple to navigate, there were key places where users expected to find certain information, but didn't.
Wistia's navigation bar had a unconventional three-part structure. The top-level navigation bar contained 3 options: Menu, Product, and Learn. Menu folded out an in depth navigation bar with 4 categories and 12 navigation options. Below the top-level navigation bar was another navigation bar with the logo, Features, Pricing, Login and Sign up. Features actually took the user to the same page as Product above it.
When users were prompted to explore Wistia's website, they didn't watch the homepage video but went searching for a more straightforward description about what the company did. Two clicked on the Learn tab expecting to read a "features", "product" or "tour"-style section, but they were surprised to find a video library on how to produce better video content. Instead they had to click around on the various navigation options before eventually finding the Product tab which described Wistia the product.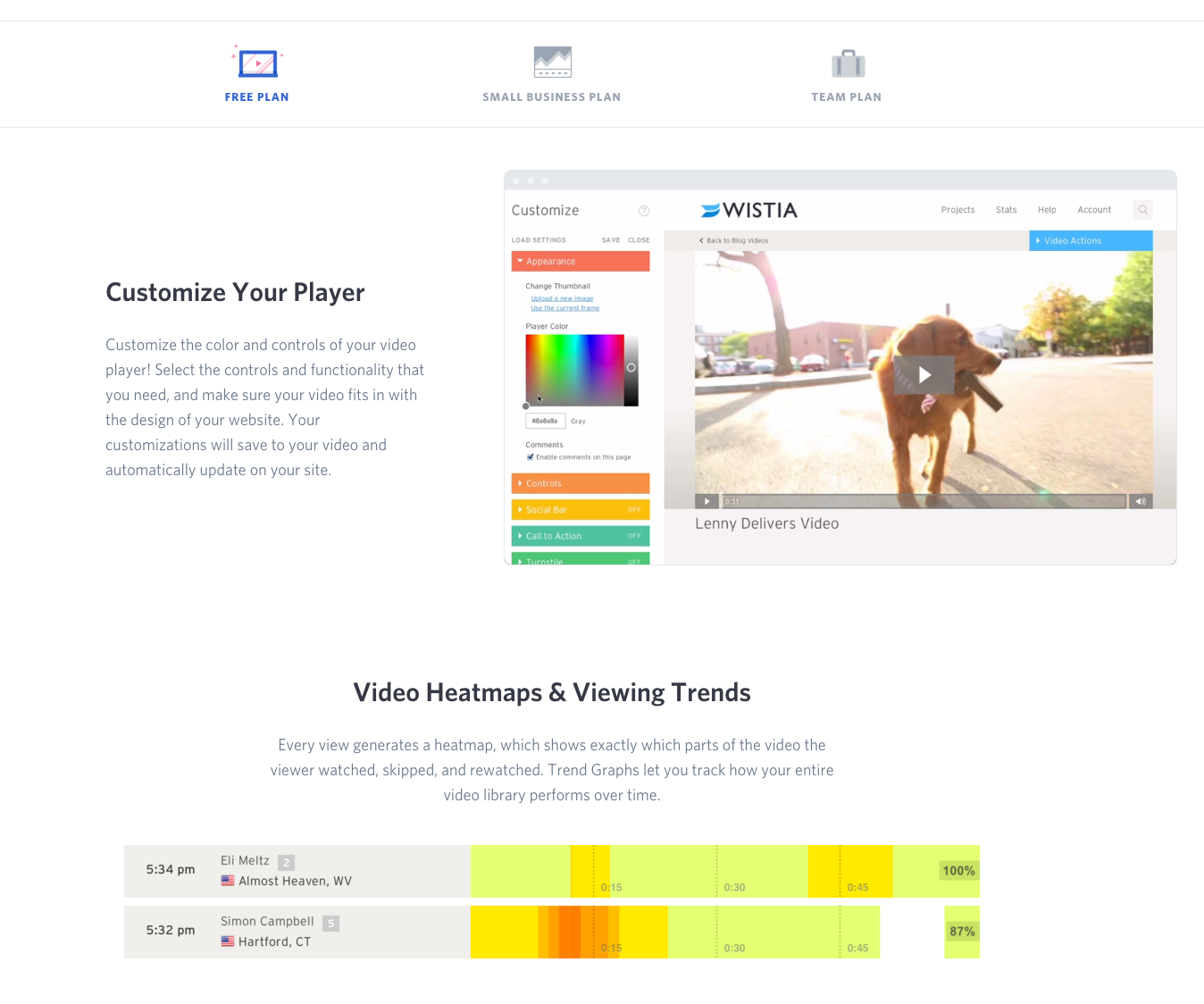 Wistia groups product features by plan on both the Features/Product page and Pricing page. However, the presentational format and layout of information on each of these pages is different. The Pricing page clusters the features in a tight group, whereas the Features page spreads this information out vertically along the entire page. In addition, the features presented are in different orders and have different headers. Finally, the tabs for switching between different plans were different on each page, consisting of text-only boxes on the Pricing page in contrast to the icon-centric tabs on the Product page.
It seemed to users they were getting entirely different information about the same plans from the two different sources as a result of the lack of parallelism between the pages. One user found this extremely confusing. She didn't find it intuitive to toggle between the different plans on the different pages and eventually gave up on trying to learn more about the different options altogether.
Quotes from the responses:
"Learn? I don't know, I feel like there needs to be a better way of saying it."
"I really like that and the more information I have about it, the more inclined I am to be comfortable with the purchase. It makes me feel like you guys don't just want to take my money, you also want to inform me so I make the best possible decision."
"What type of information do I think is missing? Contact information. What if I have any questions for you? Yeah, contact information would be nice to see."
Brand: Recommending your Brand
The users were asked how likely it was that they would recommend Wistia to friends or colleagues, rated from 1-10 [1= very unlikely, 10 = very likely]. The average rating was 6.6 for Wistia. They were also asked how they would convince their boss to sign up for the product.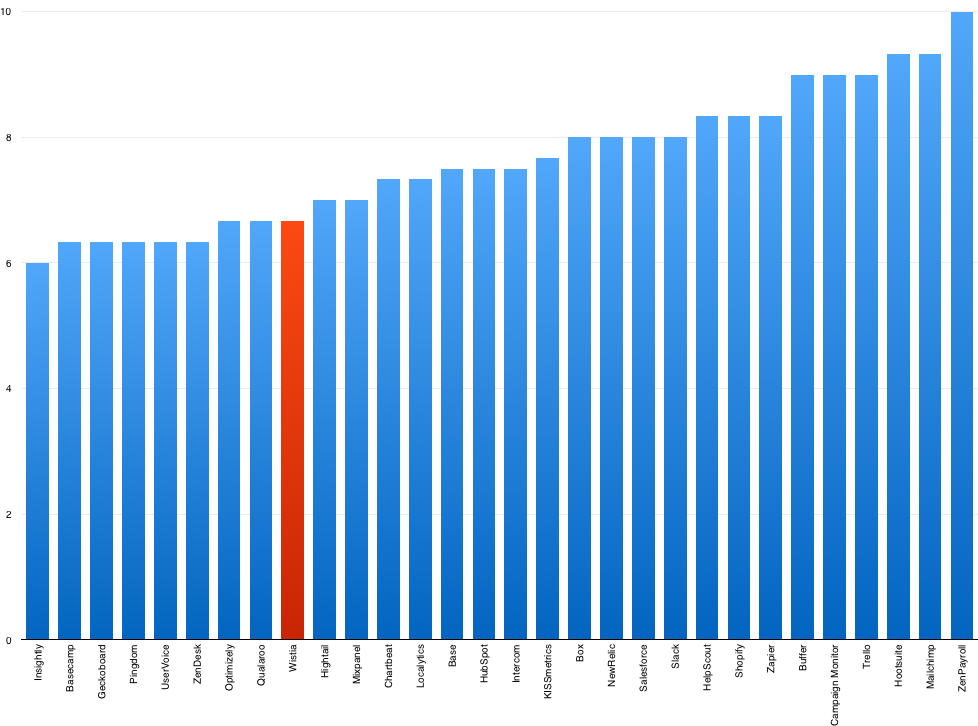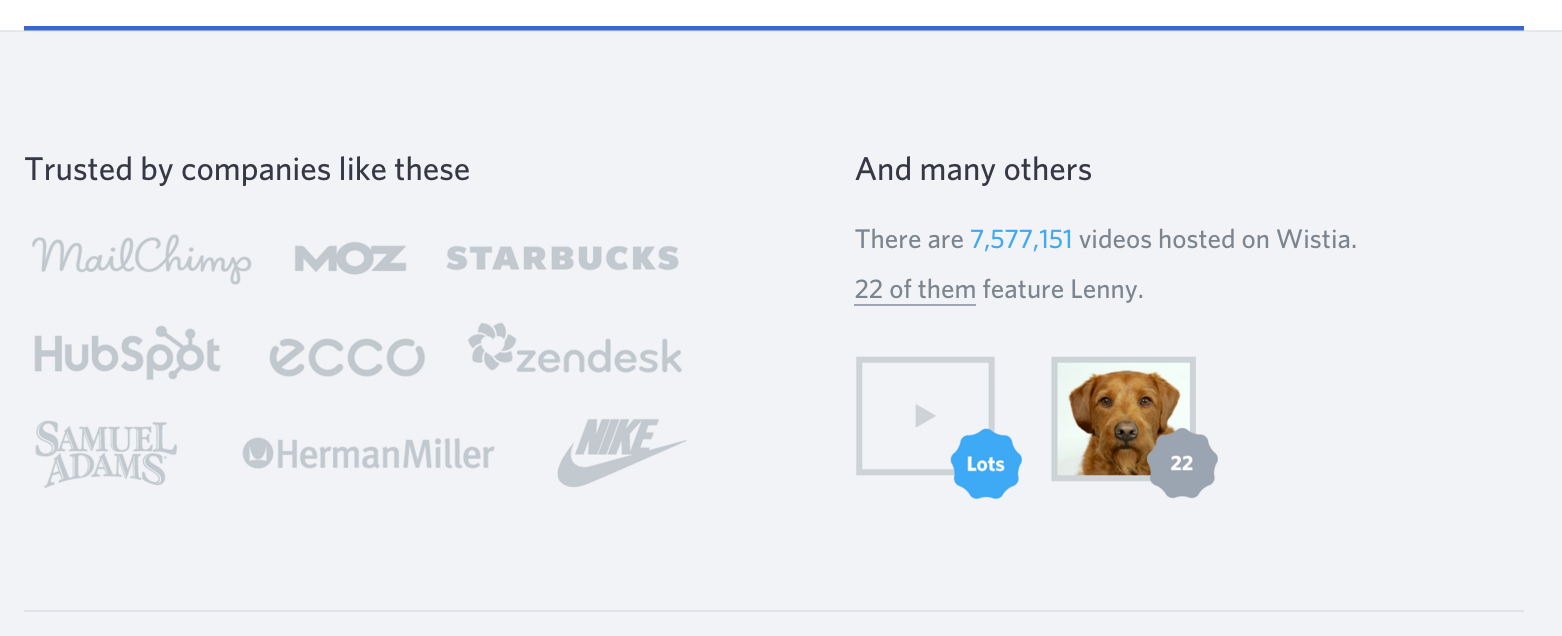 When asked about recommending Wistia, users pointed specifically to two features that they thought would help their business—the ability to generate leads through the Turnstile feature and video analytics. Users could easily see how these would be useful for any business and they would use them to persuade others to use the product.
However, not all users were clear about what Wistia did, and this bled into their branding recommendations, with users reticent about suggesting the service to others without knowing exactly what the product was for. One user had a positive emotional reaction to the site and felt positively about the product, but she fundamentally didn't "get" the product so she couldn't make a recommendation.
Wistia uses social proof on their site, but it is buried deep on the pricing page. The product is "Trusted by" large companies but users had to scroll down the pricing page to find just logos of the companies. It also doesn't include any testimonials or case studies from these enterprise customers.
Though the site was "visually compelling" for the users, the confusing nature of some of the information and the lack of other trust signals such as obvious social proof led to Wistia being low down the rankings in terms of brand.
Quotes from the responses:
"Great features and a way to extract more leads from your videos."
"More knowledge equals more leverage."
"When we know more about how well our videos are succeeding, we'll know more about our customers."
"What the product does isn't clear from the webpage, so I'm not sure whether I would recommend it."
Conclusion & Main Takeaways
Wistia is an incredibly fast growing company, that has quickly become the principal video marketing tool for SaaS companies. Within the SaaS industry, the product is well known and highly used and this has gone a long way to building the reputation of the brand naturally. From our users, new to Wistia, we got a unique angle on how the marketing site works for naive user and how it can be improved to boost conversion.
Users described Wistia as: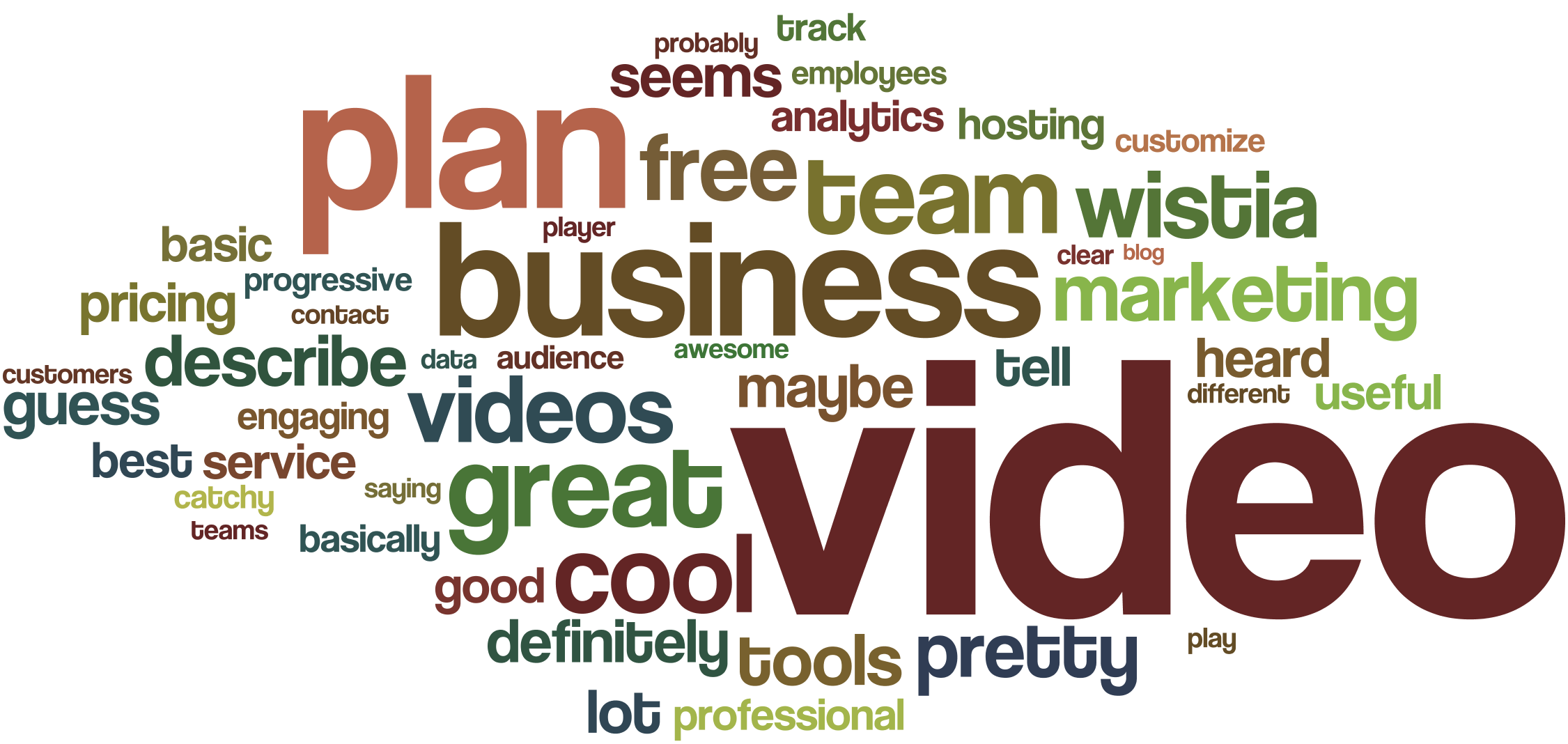 From each of the user videos, we have distilled how new users interacted with the Wistia site into precise recommendations for all the features of the marketing site—homepage, pricing page, organization, and brand.
Homepage Recommendations
The fullscreen video that made up Wistia's homepage was unique within our selection of SaaS companies. Though others used video, none took it quite this far. Though this type of experimentation is awesome, it's important that it doesn't distract from the experience of the homepage.
Change the tagline to be clearer about what Wistia does. Users should know what the company does as soon as possible.
Consider a more traditional homepage format that incorporates video, but also provides other clear ways for customers to learn about the product, for instance by scrolling down through different features.
Make the homepage links more conventional for easier discovery. When users understand the layout of the site they are more likely to explore and understand the value of the product quickly.
Pricing Page recommendations
Determining which plan was good for them initially seemed easy for the users, with the plan names readily identifying who each plan is aimed at. But for the users who weren't exactly sure what they would then get in those plans, the way information was organized made the choice more difficult.
Make sure product descriptions are clear and easy to understand. Users are turned off by what they perceive as jargon or sales talk.
Consider a more comprehensive pricing FAQ, either on the pricing page or through a link, for more detail about different plans.
Use tooltips or links to describe individual features. This helps users understand the value of each feature immediately from the pricing page without having to search for the information.
Organization Recommendations
The Wistia site offered users a lot of information throughout the site. However, confusing menu titles and the complex organization compared to many of the other SaaS sites surveyed made it difficult for the user to find more basic information.
Make the menu language clearer. Choose a word besides "Learn" for the community and blog pages, or just eliminate the "Product" and "Learn" sections altogether and put them in your menu.
Use a more conventional menu layout. Even if your homepage explains what you do,an "about" section helps catch users who are used to a more traditional layout, and a "contact" page helps users communicate with you if needed.
Make it clear what features are associated with what plans. Keep critical information on one page or make it easy for customers to learn more through tooltips, modals or links. Use that to better tie features to pricing plans so users can understand how Wistia the product delivers the promised value.
Brand Recommendations
The novel design of the site and the great features available through Wistia meant that users could see how they would recommend Wistia to collegues. However, the lack of clear product detail lead to some reticience in recommendations.
Make the product value clearer throughout the site. Remove any confusion over the product to make it easier for users to recommend the product.
Make the social proof from other companies more obvious. Compared to other SaaS companies, Wistia's site is nearly devoid of social proof. While most put logos front and center on the homepage, Wistia buries its at the bottom of the pricing page. Consider putting more emphasis on social proof and adding customer testimonials to explain value and use cases.
Emphasize main features so that users can understand the core value of the brand. Use the main features of your product as a particular recommendation point for users.
<< Chapter 5: Case Study - Slack
Appendix A: Methodology Overview >>