Chapter 2
SaaS Pricing Pages - Your conversion point
One of the most important and often overlooked elements of your SaaS website is your pricing page. All too many early-stage startups fall into the trap of pouring everything they have into their product, and only hastily slap together their pricing page as an afterthought.
But the pricing page is where magic happens, where you try to convince these potential customers that your service is worth their money and you convert leads into revenue. If you get this page wrong, then it doesn't matter how well you've designed all the other pages, you simply won't make any money.
But get it right and you can increase your conversion rate and maximize your revenue. With a well-designed pricing structure and pricing page you'll also reduce churn and lower your customer acquisition costs.
In partnership with UserTesting.com, we studied 30 different SaaS pricing pages including the biggest names in the business like Salesforce, HubSpot, and Zendesk alongside up-and-comers like Wistia, Help Scout, and Buffer. We recorded video and voice of 90 different users as they looked through the pricing pages and shared their thoughts aloud. As they navigated the site, they answered questions on how well they understood the product's value, how the pricing plans corresponded with that value, and how they would pick a plan from the site—amounting to over 1,800 minutes of user testing video. (to get three free UserTesting videos use code "SaaSDNA" at UserTesting.com).
(For more on our methodology, go here.)
The videos offer a rare look behind the numbers—impressions, conversion rates, etc.—to understand how users actually experience and analyze pricing pages, and ultimately, how they choose their plans. Here's what we learned.
The Anatomy of a Pricing Page
The 30 pricing pages we evaluated represented companies spanning all types of SaaS—including customer relationship management (CRM), social media marketing, analytics, help desk, email marketing, etc.—serving customers of all sizes—from individual business users, to small and medium businesses (SMB), to the enterprise. The pricing pages had mixes of some of the following components:
100% of sites analyzed offer a free trial
93% offer enterprise or customizable plan options
76% give the option to contact sales or support for more questions
66% include a FAQ's section on the pricing page
43% offer freemium plan options
13% have a live chat popup
These components don't correlate exactly with the user ratings for the pricing pages. Rather, users evaluated the pricing plans and pages in terms of the information presented and how they envisioned using the product within their own businesses and companies. Therefore we asked users to assess the pricing pages along two dimensions: ease of understanding and how they would pick a plan. The first indicates how well they understood the different plans on offer, and the latter shows how they would use that information to make an informed decision about the product and their needs.
Ease of Understanding
Your pricing page is where you guide customers through your marketing and sales funnels. If potential customers have no idea what your different plans offer, or a solid idea of what it's going to cost them, then they're never going to sign up for your service. To discover how easy it was to understand different pricing pages we asked our user testers two questions:
How difficult or easy was it for you to understand the company's various offerings?
Is there any information missing that you would like to see on this page?
Users were guided to each company's pricing page, and allowed to read through it and see what plans the company offered. Once they had done so they were asked the first question to gauge the difficulty of understanding the page. Once they had evaluated the plans on offer, they were asked what other information they would have liked to see on the page.
How difficult or easy was it for you to understand the company's various offerings?
After browsing plans on the pricing page, users were asked how difficult it was to understand the company's pricing plans and what the page was offering on a scale of 1-5 [1=very difficult, 5=very easy].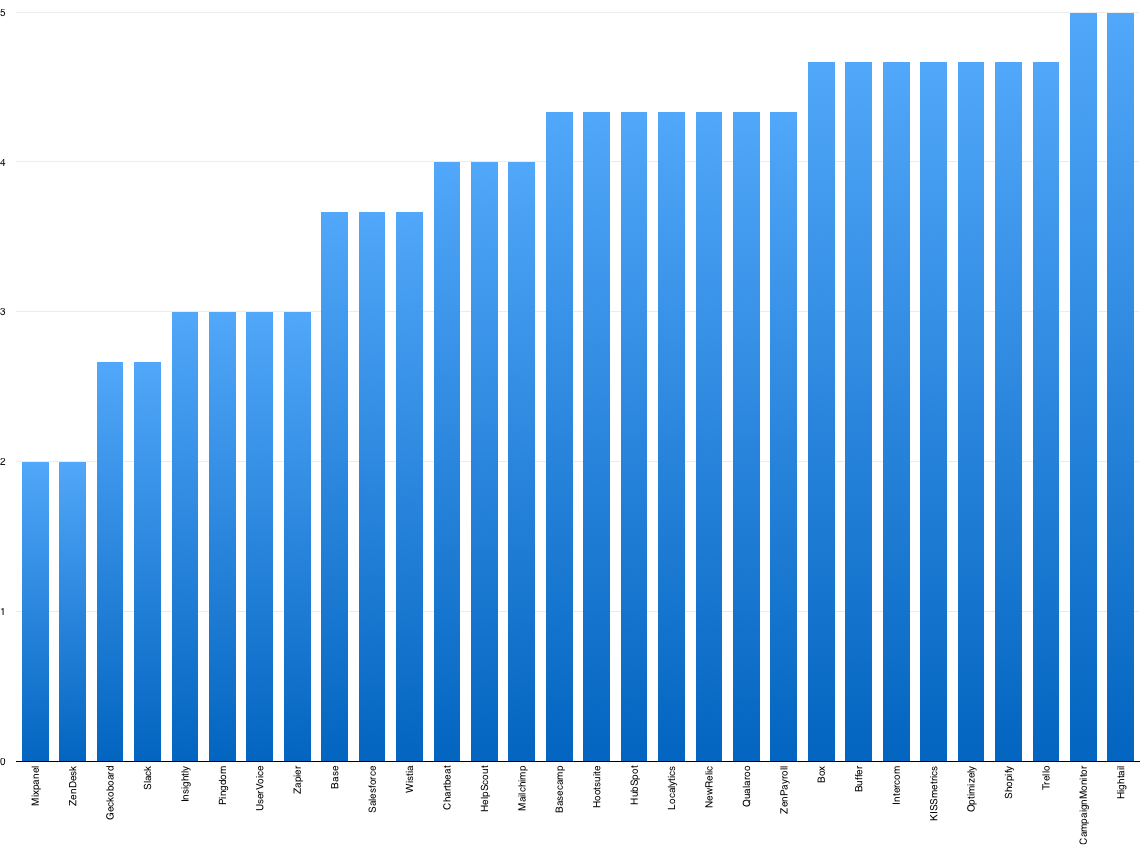 Highly-rated example: Hightail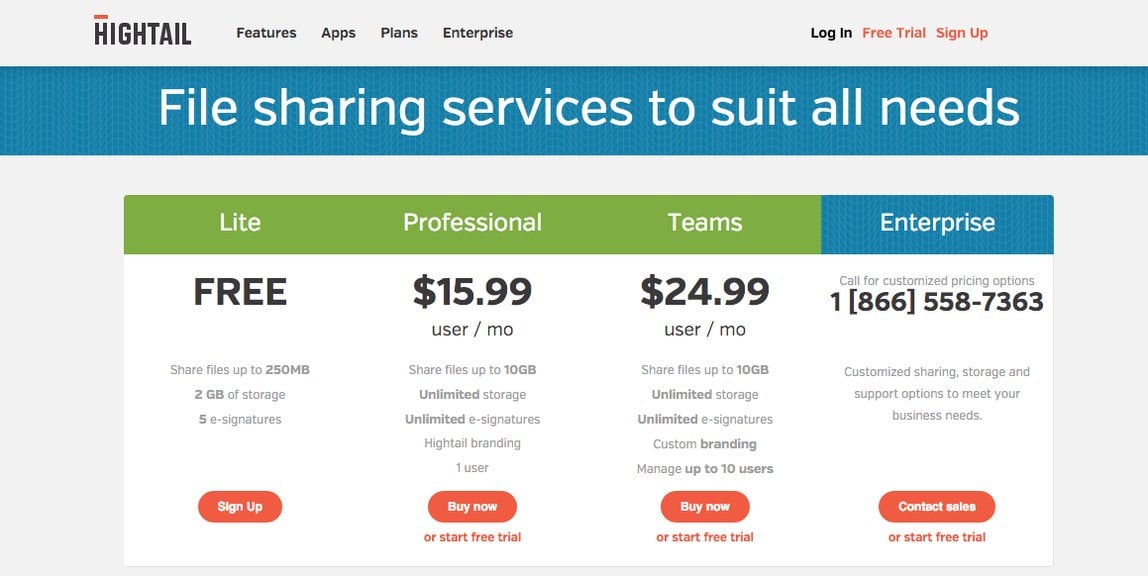 Users loved Hightail's pricing page because of its simplicity. The page offers 4 separate plans—Lite, Professional, Teams and Enterprise—and it's immediately clear what each offers. For the Lite plan, users knew exactly what they were getting: the ability to share files up to 250MB of size, and 2GB of storage. Meanwhile, the Professional plan allows sharing files up to 10GB in size and unlimited storage, while the Team plan encompasses the Professional plan, and provides team management options.
This concise presentation of information means that the value metric is completely obvious to even these first-time users. A value metric is essentially what you're charging for in your service and how you are charging. In this case, Hightail is charging based on file storage per month and file size allowable—both of which are well-understood value metrics.
Further down the page, you get an easy to understand FAQs section and a selection of the features you get with each plan. This uncomplicated layout and understandable value metric means that Hightail's pricing is easy to understand—even for new users.
Quotes from the responses:
"It was very easy actually for me to understand the company's various offerings because as you scroll down you are able to compare the services or the plans."
"It was very easy. Very, very easy."
Lower-rated example: Mixpanel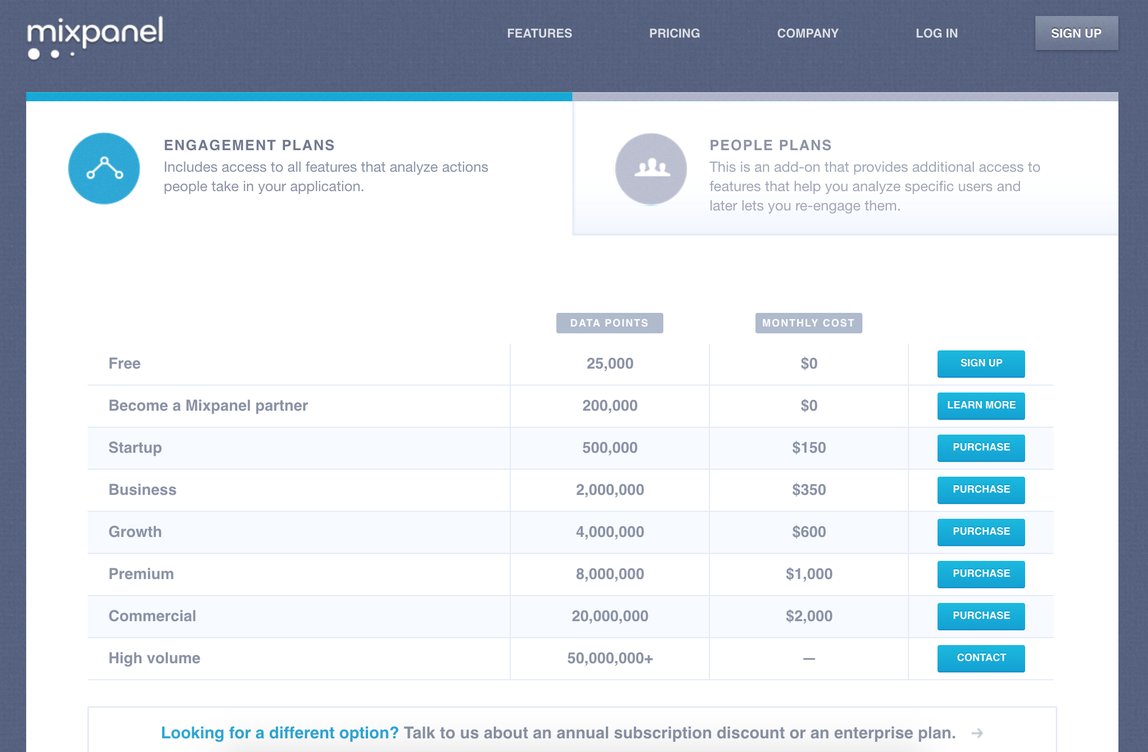 Mixpanel's pricing page ranked low because of the confusion users experienced with the page's value metric, which is measured by "data points." Mixpanel's product measures in-app activity, and each data point represents a tracked event.
For users, it was difficult to understand what these abstract "data points" were, and how they related to their own businesses. The use of data points as the value metric meant that the pricing plans weren't intuitive to users, meaning they were confused and less likely to sign up for the service.
Another confusing issue with the Mixpanel value metric is that there are 2 different plan options—engagement plans and people plans. This means that users are immediately unsure about not only what plan they need, but what type of plan, engagement or people, or whether they actually need both. Additionally, the people plans are listed as an add-on, so some users felt that they might not receive full value from just the Engagement Plans.
Quotes from the responses:
"How does pricing work for something like 50 million data points? Oh god. Yeah, I'm lost already."
"I get that there are different data points, and they'll cost different amounts but I guess I've got to learn more—maybe it has more explanation. Nope, it doesn't. OK, I might get it, but not really."
"What the hell are data-points?"
"Maybe this is really kind of in beta where they're looking for people to try the thing."
"So finally down here, I get some examples of some problems that I might be having, but this is all just marketing fluff to me."
Is there any information missing that you would like to see on this page?
Once the users had used the pricing page to try and find out as much information about the possible plans, they were then asked if there was any information missing on the page that would make the pricing clearer. How they responded for each pricing page tallied with the overall ratings for ease of information.
Highly-rated example: Campaign Monitor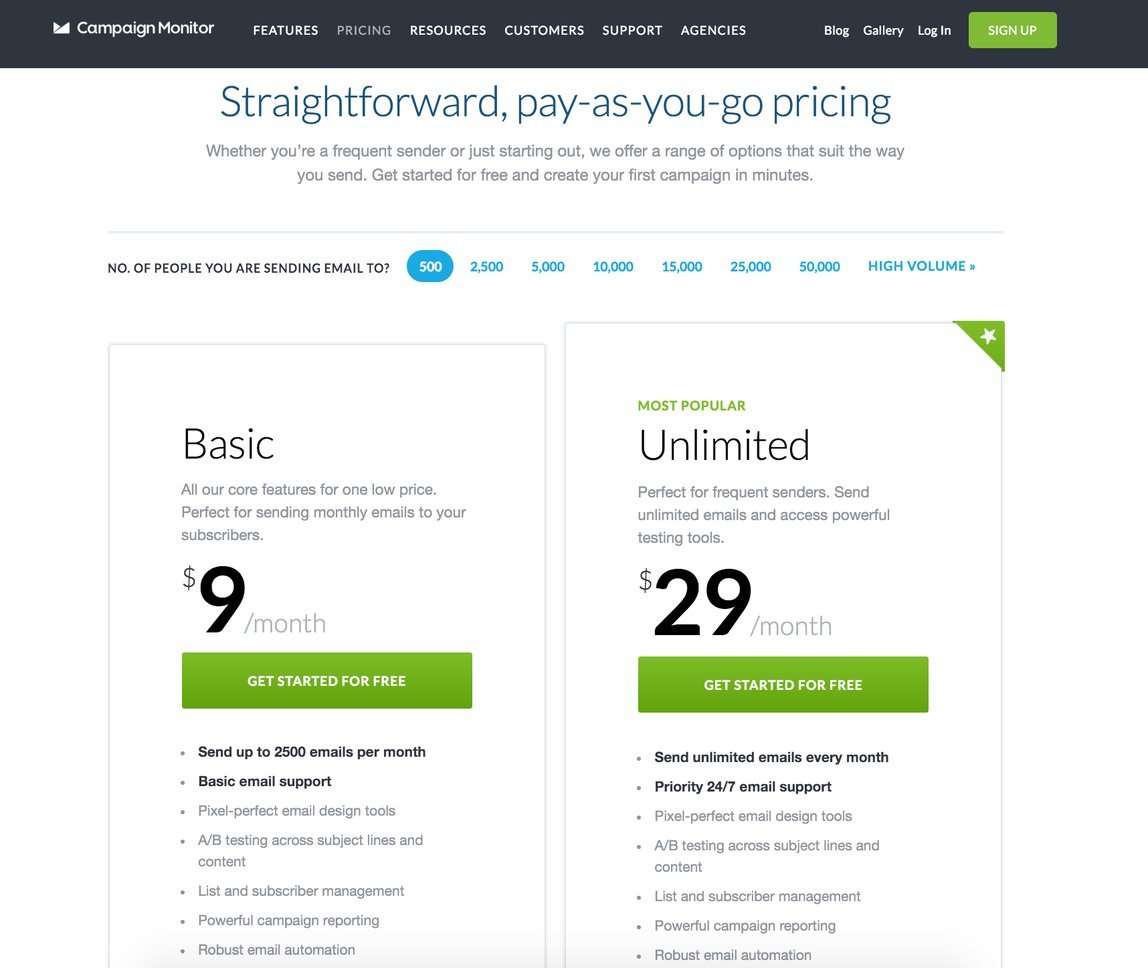 When asked if any information was missing, all users said no. The straightforward nature of the Campaign Monitor's pricing matrix meant that users easily understood what each plan offered and what they would be paying for.
Campaign Monitor's pricing page does an excellent job simplifying something that could have been really complex. There appear to be only 2 options to the pricing plan—but there are really 14. Part of Campaign Monitor's pricing is charging per tier of email subscribers in your list, but the 2 options remain consistent across each tier of subscribers. The only thing that changes is the price. Users were able to click around and see pricing based on how many email subscribers they had, without being overwhelmed by choice.
From the pricing matrix, it is clear what each plan actually delivers. Key features per plan are emphasized and made obvious in bold. More complicated features were clarified with tooltips, that users hovered over for more information.
Further down the page, the company includes an FAQ section, answering the most common questions about the pricing and plans. This way, though the matrix is simple, the page still includes all the information a prospective customer would need to sign up to the service.
Quotes from the responses:
"I really like this. It's very self explanatory, you don't have a lot of questions, it gives you everything that you need. Every bit of information , so you know what you're getting for this price basically."
"It's got some frequently asked questions just in case you might have some questions, which I like, and it's super to the point."
"I think that in terms of the page itself it's very, very, very well done, and the user interface is awesome."
"It's simple and has all the information that I need and FAQs are down here. I think it's great."
Lower-rated example: Geckoboard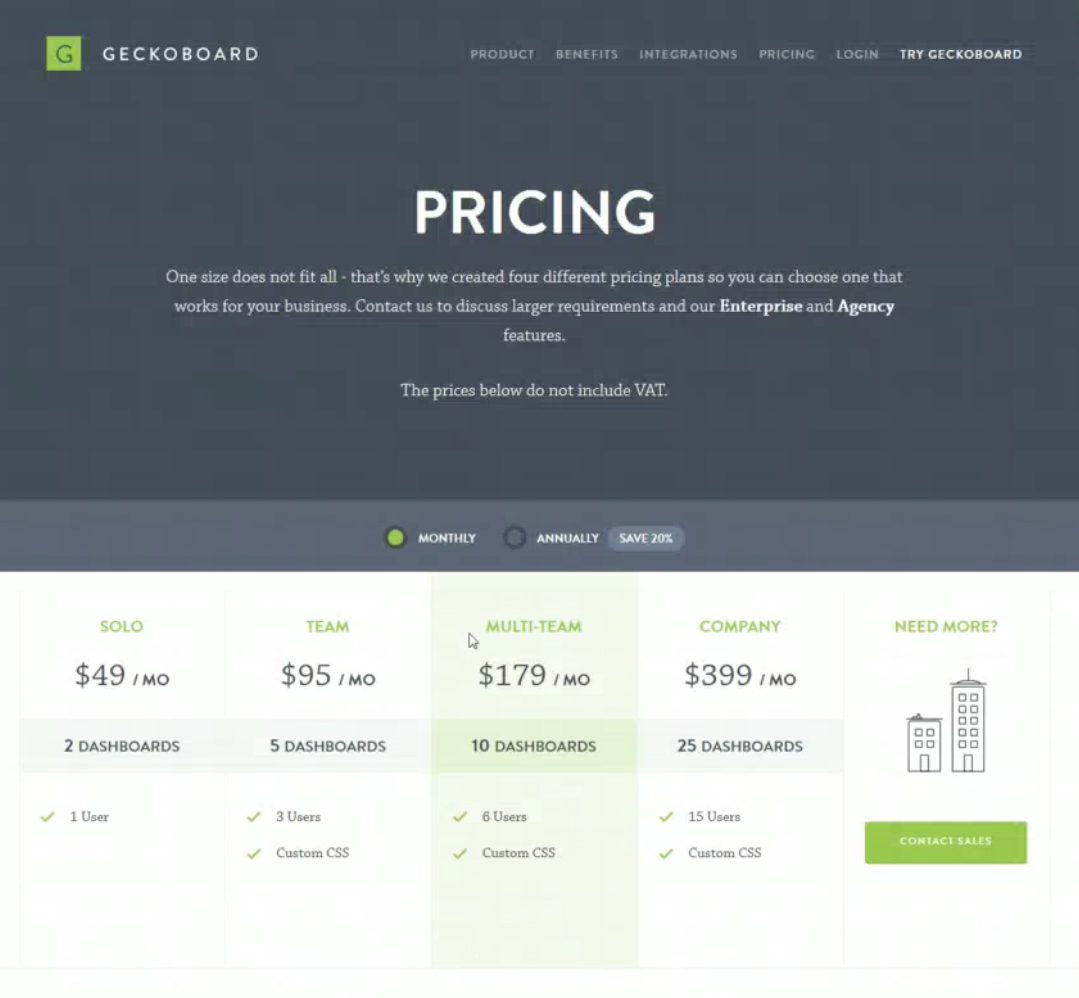 Though the pricing matrix on the Geckoboard pricing page looks very thorough, users thought that it was missing the vital information that they would need before signing up for the service.
In particular, users were unclear on what a dashboard was, and though this was the main value metric shared across plans, there was no clear explanation as to what it actually was. Although dashboards are specific to Geckoboard's product and crucial to understanding its value proposition, it's the only item across the features matrix that lacked an explanatory tooltip. One user commented that she would have to "see what a dashboard is" first before knowing whether she "needed 2 dashboards or 10 dashboards."
For the naive user, the use of specialist language and terms in the plans meant that they didn't immediately understand what they would be paying for with each plan—instead of saying "Customize Theme," for example, Geckoboard's pricing page reads "Custom CSS." As a result, users were unclear about what was actually being offered on the page, and reluctant to sign up.
Quotes from the responses:
"I want more information about what's included at that price — tell me what dashboards are, instead of just presuming I know this information. I want to know what $49 a month gets me."
"I think it was just a little bit too difficult to find out the different types of products that are offered. It seems like it's just one product with a different pricing needs, different sizes, and different number of dashboards."
"I want to see a phone number that I can call for support, let me see if I click help if a phone number comes up. So if I want instant help, I'm not going to get it and that's disappointing."
Key Takeaways for Ease of Understanding
Simplicity is key in pricing. Users wanted a simple explanation of what they were going to have to pay, and for what. The more complicated the structure gets, the more difficult it is to understand for prospective customers— and the more likely it is that they won't sign up for the service. Remove these roadblocks whenever possible.
Plain english works best. As with the homepage, straightforward, benefit-driven language works best in getting across the value proposition of a service to potential customers. Using clear language allows companies to communicate what they can offer more effectively.
Having FAQs or common questions on the pricing page really helps. Having vital information about plans and features separated from the main pricing matrix allows the pricing to remain simple, but still means that there is enough information on the pricing page for customers to make an informed decision.
When users easily understand your Pricing Page, they're saying . . .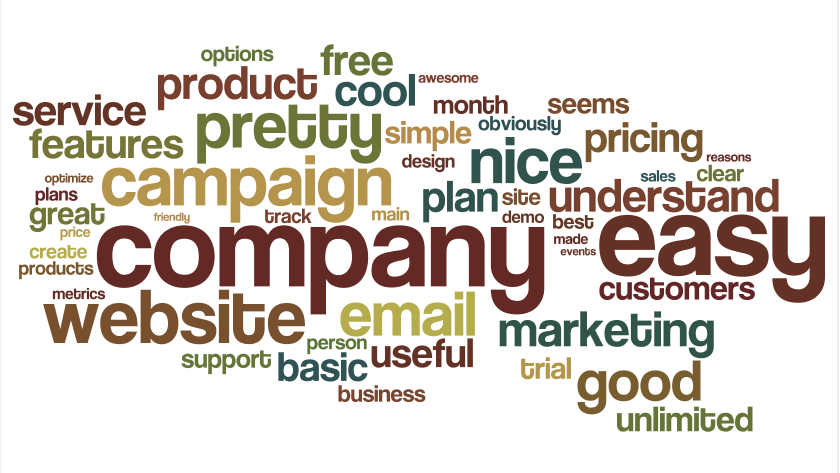 When users struggle to understand your Pricing Page, they're saying . . .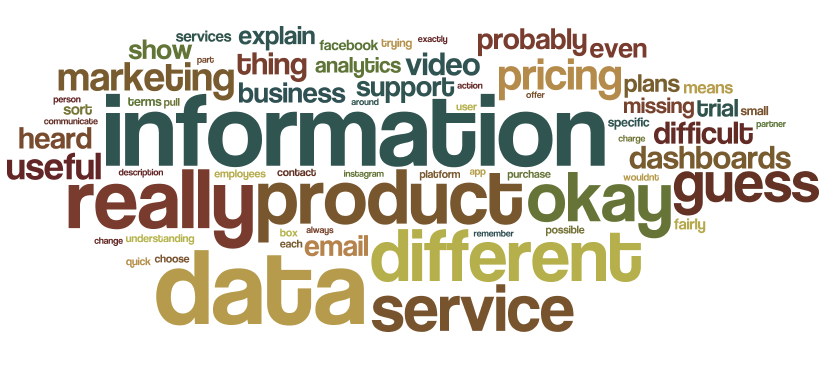 Picking a Plan
Once customers are on your pricing page, you want them to pick the plan that is right for them. If they don't find a compelling reason to pick a plan, they won't sign up. If they pick the wrong plan, they probably won't come back. To find out how persuasive the pricing page was in convincing the users to pick a plan, we asked them 2 further questions.
How useful do you find the information on the company's product offerings?
Which product, service, or plan best suits your needs at work?
The first question finds out about how they perceive the information on the page and how it relates to them and their needs. The second question asks them to make an explicit choice on a plan—something easy if the value proposition is conveyed well, but difficult if the user is unsure what the company is offering.
How useful do you find the information on the company's product offerings?
After the users had spent some time playing with the pricing page, they were asked about how useful they found the information on the page, rating it on a scale of 1-5 [1=not useful, 5=very useful].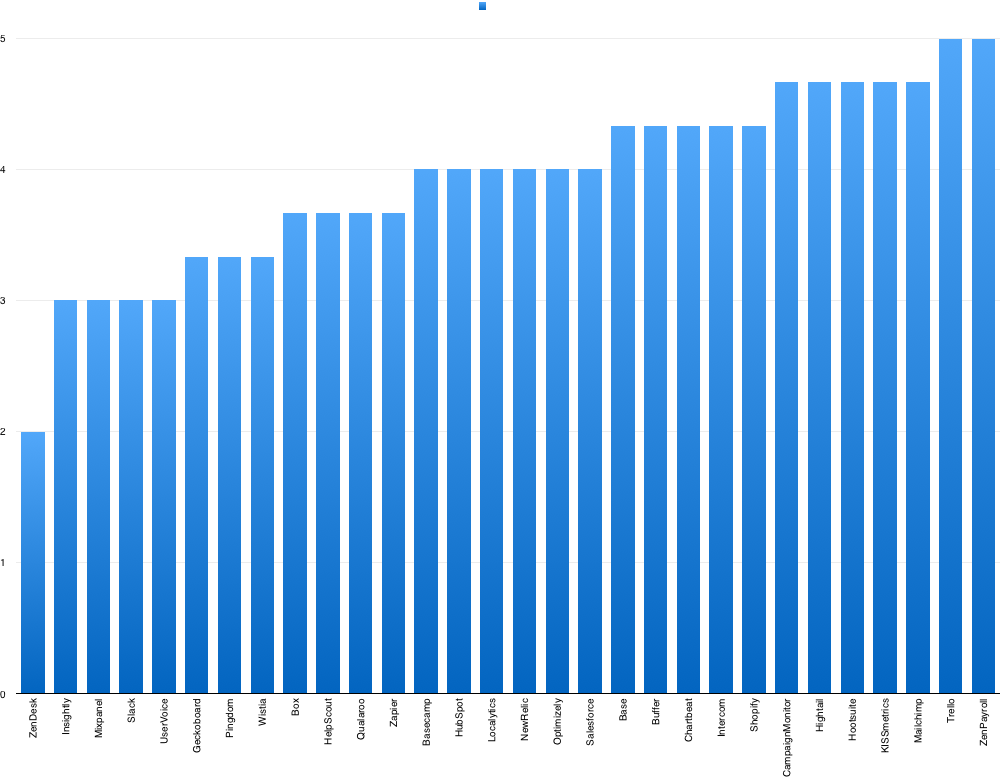 Highly-rated example: Zenpayroll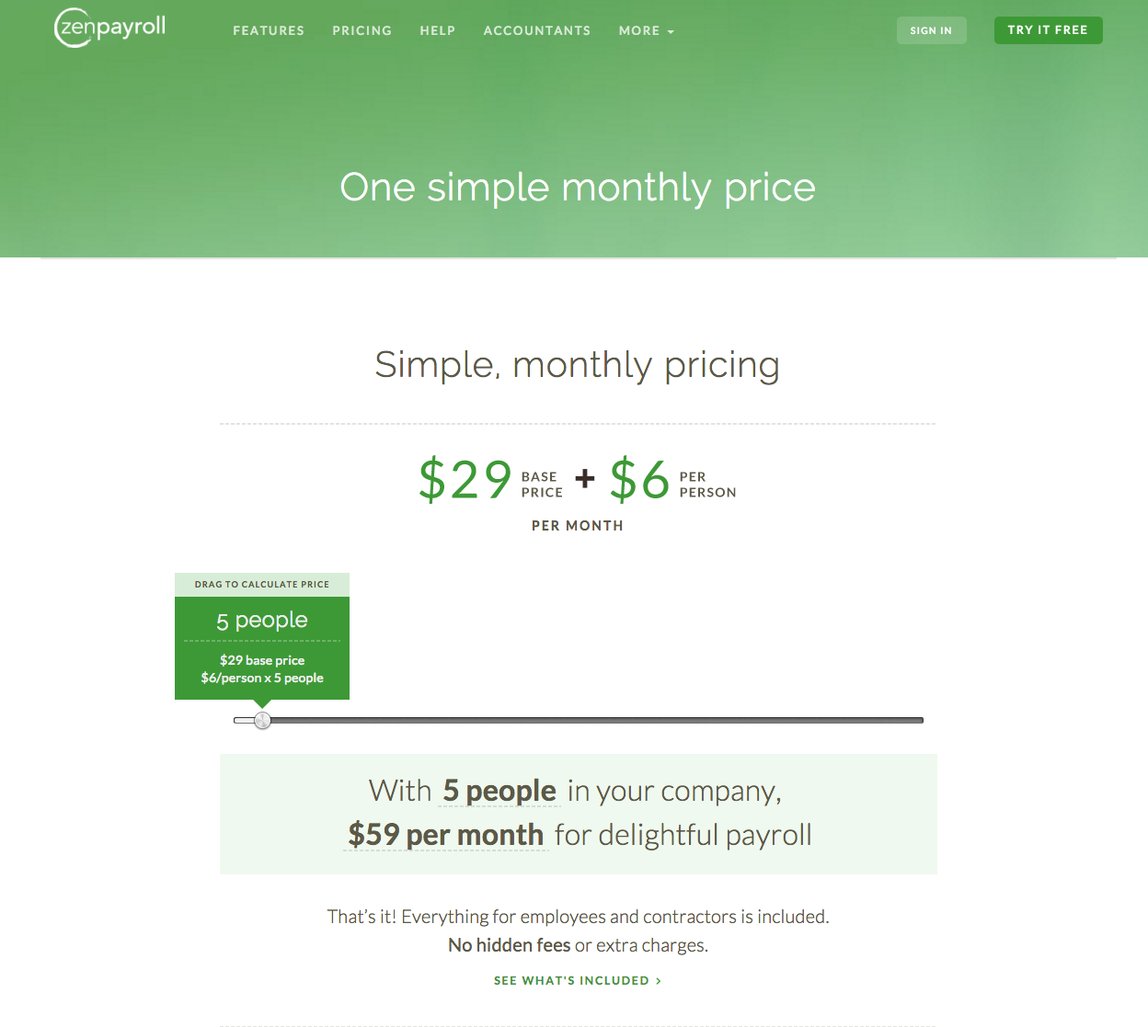 ZenPayroll's pricing page does a great job of boiling down pricing into a simple and straightforward process for users. The clarity of information on the ZenPayroll pricing page is why it's so easy to pick a plan with the company, and led to its high rating.
With an incredibly simple pricing structure, it is immediately obvious to prospective customers how much they would be paying and what for. Rather than outlining specific plans, the customer could assemble a plan that works for them. The slider interface made it easy to work out the pricing for a specific size company, making the page very understandable for new customers.
Plus, the slider fostered user interaction with the pricing page—users actually went in and played around with the slider to see how much their specific business needs would cost. They used it to peek into the future and see how pricing scaled as their business grew.
The pricing page clearly tells the users that this is the only pricing structure, there are no hidden charges, and that it includes everything no matter the size of your company. This simple layout with just the most important information means that the page is useful to customers without information overload.
Quotes from the responses:
"If I were to do this for just my department, with five people, we're looking at a $29 base price, plus $30 because it's $6 per person per month. So $59 a month to do payroll for five people, which actually is not that expensive."
"Very easy to understand everything that goes on through here."
"The information on the company's product offerings is great, it's not too in-depth, it's clear-cut and to the point."
Lower-rated example: Zendesk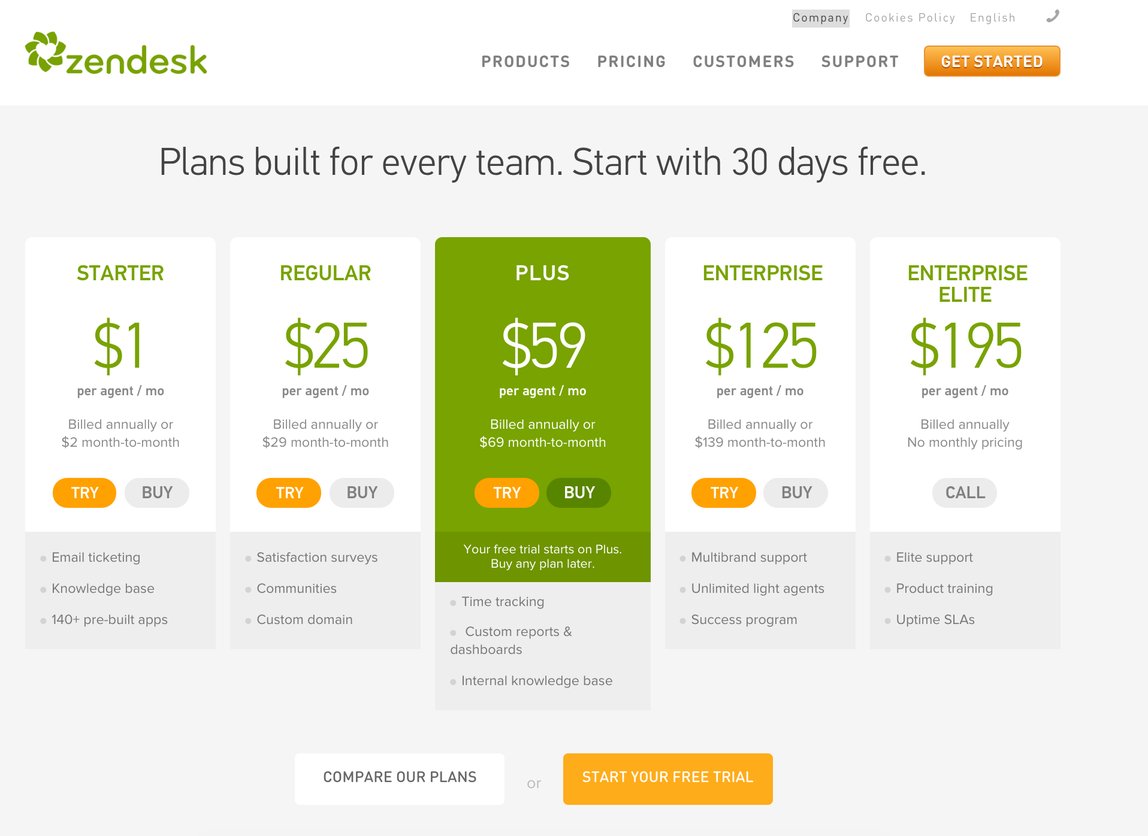 On first glance, the Zendesk pricing page looks like it should be very useful, with plenty of information. However, users in our study found it difficult to make a decision and pick a specific plan. Zendesk's pricing page gives users too many options, without providing enough context for users to actually make a choice.
For starters, instead of allowing users to toggle between annual and monthly payments for each plan, each plan lists both the monthly and the annual price. Further, the"Try" and "Buy" call-to-actions are repeated across each plan—instead of giving users a clear cut action to take after visiting the pricing page. Instead of condensing information and limiting choice, the pricing page does the opposite.
Each subsequent plan from left to right includes all the features from the earlier plans—which was not readily apparent to users. Users were confused about what exactly they'd be getting for their money, which undercut the usefulness of the page.
Finally, the page also included a very complex features matrix, laying out all of the features you get with each plan. The industry jargon peppered throughout the page is a turnoff for people who have never used such a service before and are heading into customer service software for the first time. Though it may be helpful for more seasoned users, words like "macros," "ISO27001 certified," and "Web Widgets" made even the basic plans difficult to understand and pick for users—and the sheer number of features listed in the matrix meant that were lost before they could read the explanatory tooltips.
On the surface this should make the page more useful, but actually the overwhelming amount of information means that users aren't sure what plan they should get and end up with too much information to make a decision.
Quotes from the responses:
"I wish there was more information, I feel like it's a little confusing."
"It still doesn't tell me much and it doesn't have more information. Just has these little hover overs, but I mean it would be nice if each one had a page or some images showing me what exactly it is."
"It was very difficult to understand the offerings. I'm still not sure what goes where, and what goes with what."
Which product, service, or plan best suits your needs at work?
When the users first got to the pricing page, they were asked which of the available plans was best for their particular situation. They were asked to give 2-3 reasons why they made this particular selection.
Highly-rated example: Kissmetrics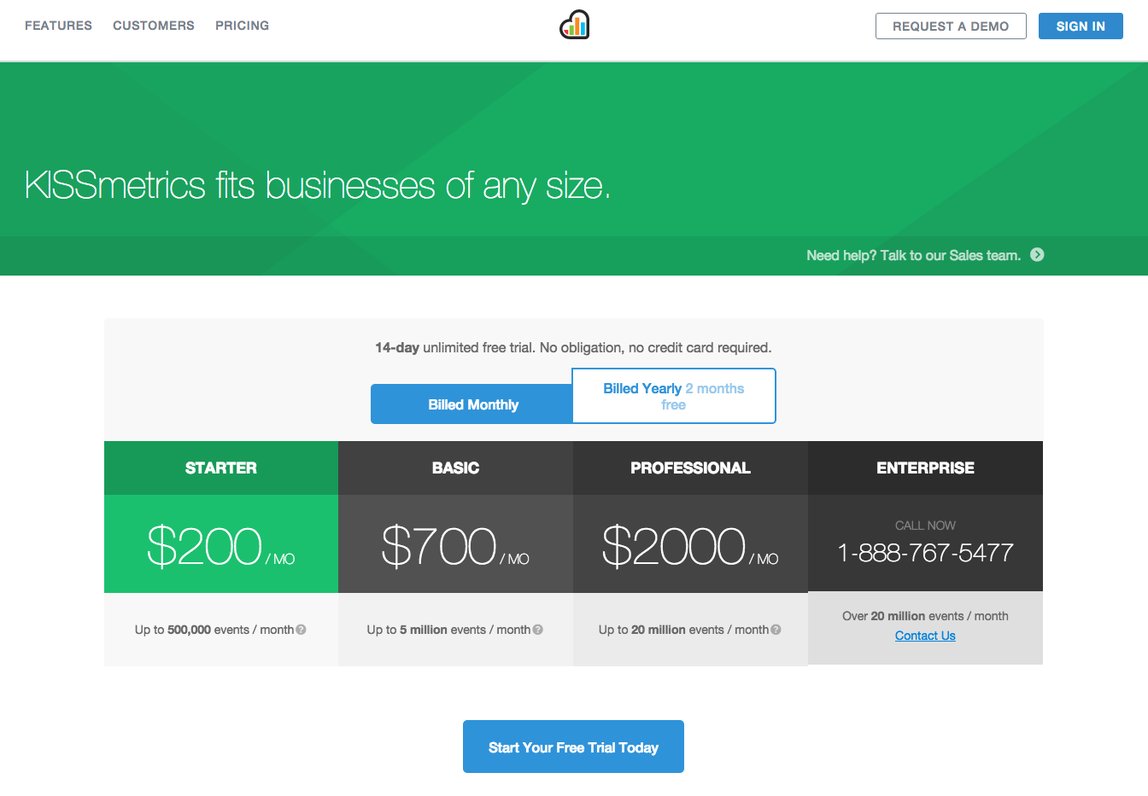 Users rated the KISSmetrics' pricing page highly as the clear organization of information provided them with everything they needed to know in order to pick a plan for their business needs.
Though there could have been confusion over the value metric—events—by hovering over the feature tooltip, users could easily see what this meant in practice: roughly 50,000 unique visitors monthly for the Starter plan.
With value metrics, many companies often offer a large number of highly segmented plans, but KISSmetrics only has 4. The site keeps the number of possible plans down, so that customers don't suffer from choice paralysis, but it still has different options based on their needs.
Scrolling further down KISSmetrics' pricing page, users reached a list of features that all plans share, which spoke to users in terms that they could actually they could relate to—reports and support—rather than technical jargon. The only differentiating factor between plans was the single value metric—and users understood that they got all the listed features with each plan, to boot.
Quotes from the responses:
"Obviously starter would be my choice, because I'm a small company and I would probably want monthly billing."
"It shows you all the information on what the plans provide, a comparison chart, and then some common questions, which answers my questions."
"I would definitely do the free trial first after I'd done the demo, and better understand the product and how much I would use the analytics."
Lower-rated example: Uservoice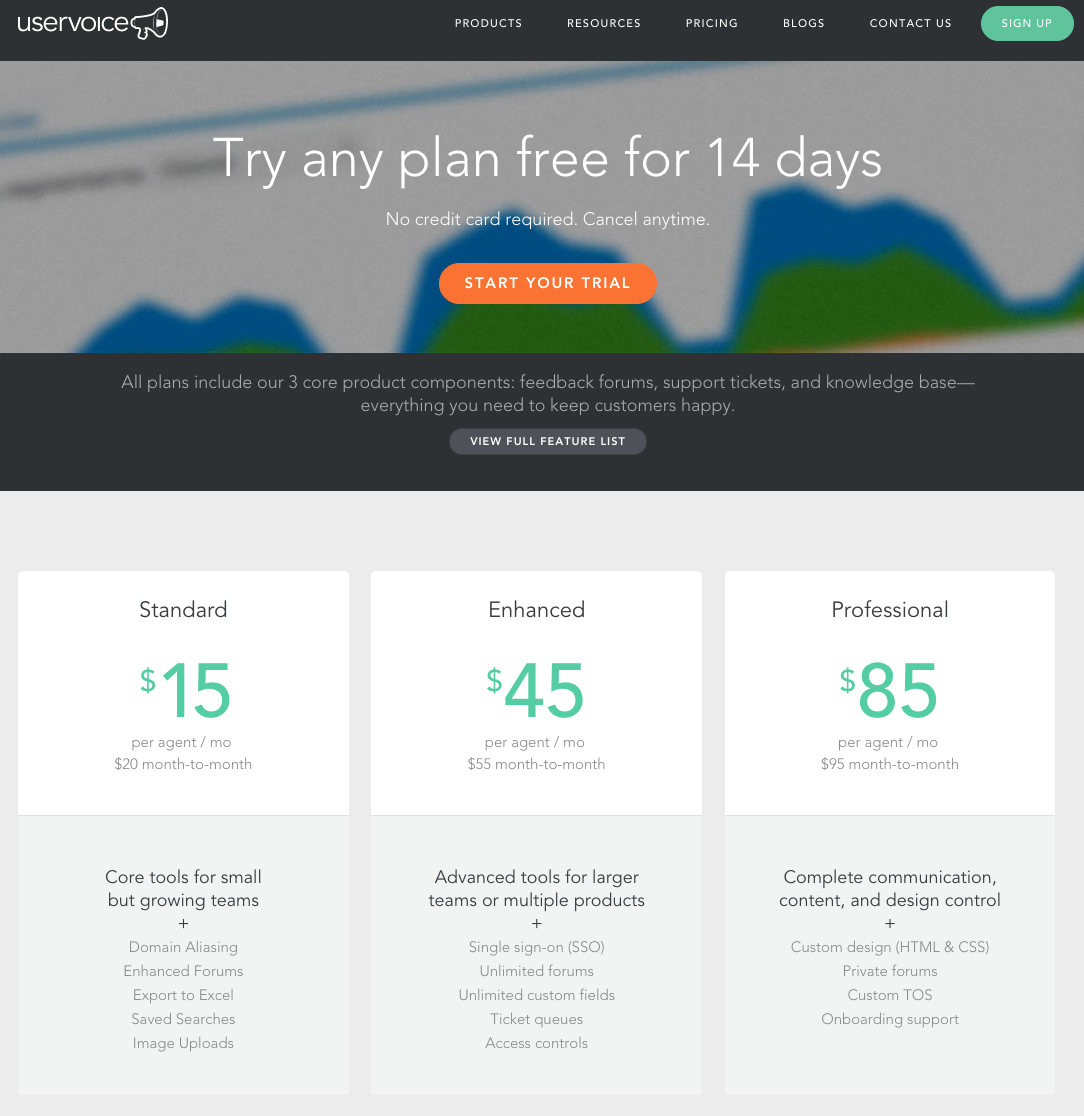 Users found it difficult to choose a plan based on the information available on UserVoice's pricing page. They couldn't connect the dots between what each plan offered, and how they would actually apply the offerings in their own lives.
By clicking on the "View Full Features" button on the pricing page, users reached a much more comprehensive features matrix to find out what each plan offered. The problem was that this features matrix was too long and complicated for users to understand, clocking at 41 rows of features organized into 8 different categories. The features matrix ended up leaving users more in the dark, who just wanted to know the basic value proposition of UserVoice and how it would help their businesses.
Features are listed in three different places on the same pricing page—above the fold, beneath each plan, and in the lengthy features comparison matrix. For users, where each feature was listed seemed almost randomly allocated, and the lack of continuity across the page threw them off when it came to choosing a plan.
One user explicitly suggested that UserVoice incorporate customer testimonials on the pricing page to see exactly how its product would help customers. Customer testimonials tap into the power of social proof, and help nudge users to take action from the pricing page—which UserVoice's current page doesn't do effectively.
Quotes from the responses:
"Maybe this will give us the basics and if it was something really beneficial then we could bump it up, but I'm not entirely sure what they do yet so I would not want to spend a lot."
"It's pretty difficult for me to understand what the company is offering. I do see the lists that list the different features that come with each package. However, I legitimately do not know what I'm getting. I'm very confused."
"It'd be nice to have customer testimonials and see exactly how this product benefits the user."
Key Takeaways for Picking a Plan
Don't be tempted to add too much information. When users are trying to pick a plan, they can easily become paralyzed by choice if they have too much information. Keeping the decision simple by offering clear, straightforward options for each plan makes them more likely to make a clear choice themselves.
The presentation of your pricing information is key. The more a prospective customer can intuit how they would use your service in their lives, and tally the pricing matrix and value metric with that, the more likely they are to really understand what is on offer and to pick the right plan for them and their business.
Design for a naive user. New users are really good subjects for understanding your pricing page, because if they understand your pricing structure, B2B people will easily understand your value metric.
Having a features matrix makes the pricing page more confusing. Though a features matrix might seem like a clear way to communicate what is available in each plan, these often include too many options (20+) so that it's easy for users to become lost and unable to easily compare plans. Concise statements about what each plan offers work better.
When users understand your pricing plan, they're saying . . .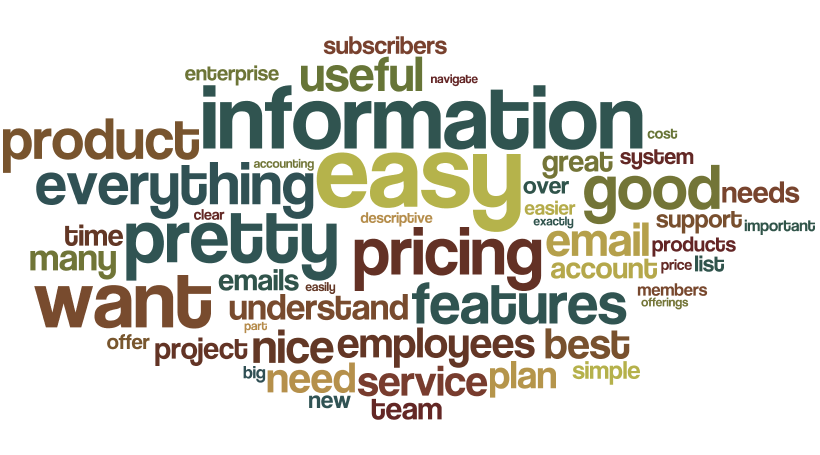 When users struggle to understand your pricing plan, they're saying . . .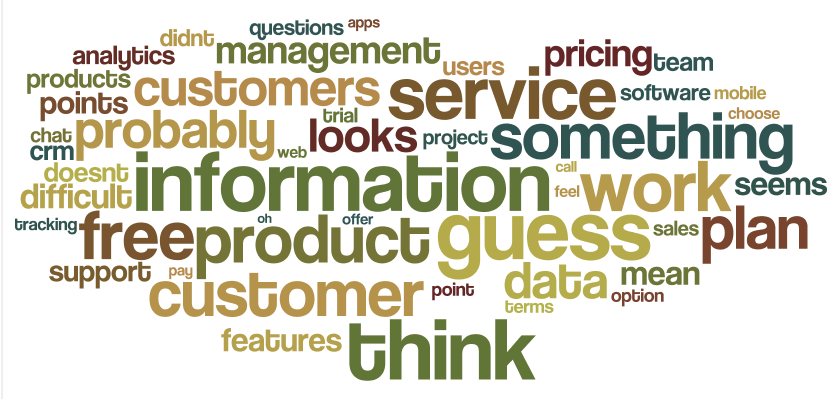 Conclusion & Main Takeaways
To synthesize the user testing data, we grouped top and bottom companies for both information and actionability into one of four quadrants.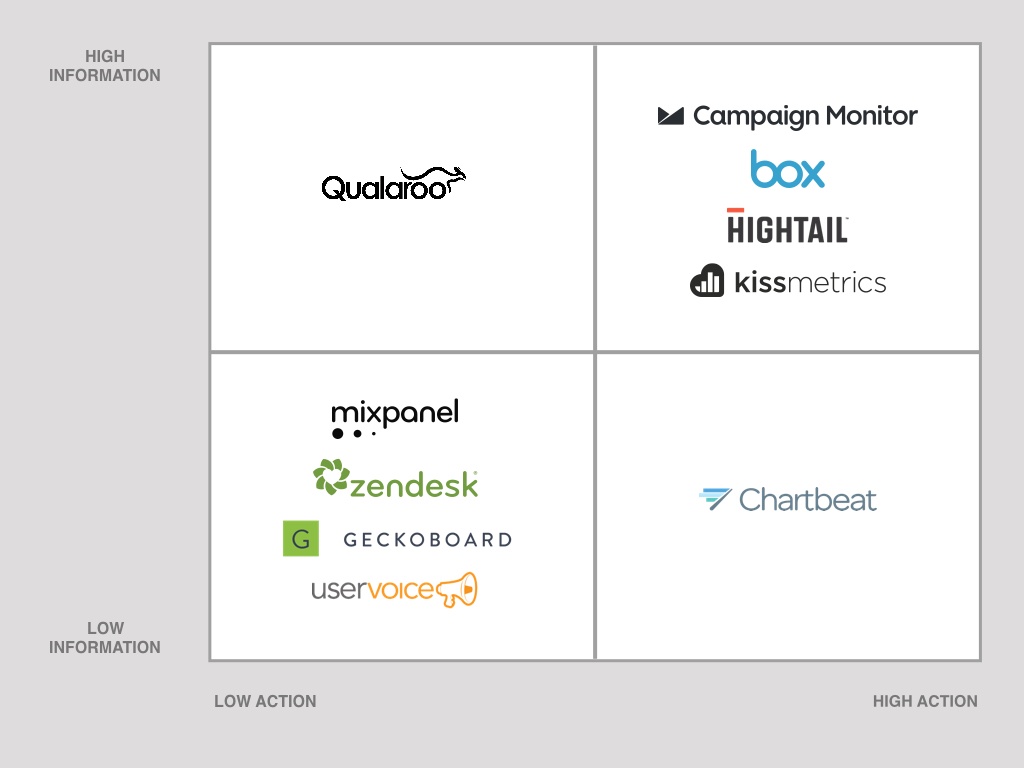 We found that companies in the same quadrant provoked a similar reaction in their users, and those reactions came out in the language they used and the tone of voice they spoke with.
Pricing pages that were both informative and actionable inspired confidence in users—they were equipped and ready to make a decision. Those that overwhelmed users with information and didn't provide a clear course of action, intimidated users. Those that were clearly actionable, but didn't inform, distracted users. Finally, those that were neither informative nor actionable left users feeling discouraged.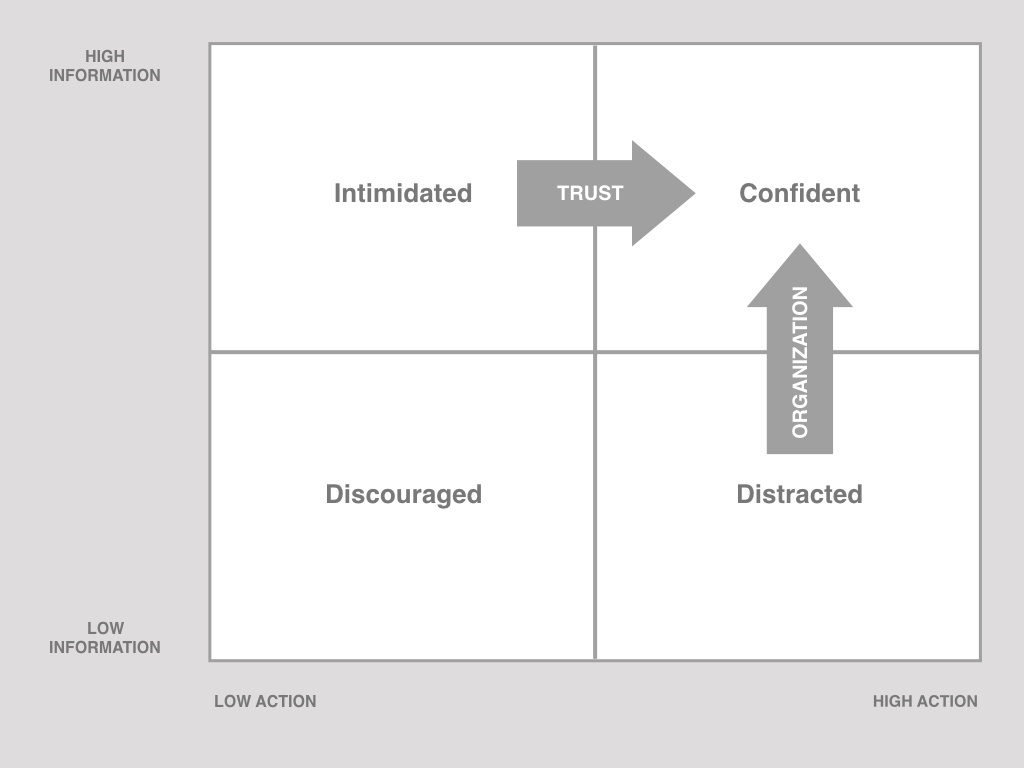 Based on our study of users testing pricing pages, here's a couple recommendations to boot your pricing page into the "Confident" quadrant.
Confident recommendations
If users feel confident after browsing your pricing page, you're in good shape. Users have the information they need, and they're ready to take action and buy. Still, pricing is a huge lever for your business, so constant refinement will get you wins for growing your revenue.
A/B test copy and price points to get easy wins on conversion and lifetime value (LTV).
Constantly revisit your pricing strategy every 6 months.
Update your pricing page upon major pricing and features changes.
Intimidated → Confident Recommendations
To bridge the gap between users feeling intimidated and confident, build trust with the user to help them take the leap of faith into buying.
Make sure your buyer personas are down pat, and that you use benefit-driven language for each. Users should immediately recognize that you know what they need. That's a quick shortcut for the user to finding which plan suits their needs, without having to consult a massive features matrix.
Consider providing support options to users, like live chat or a telephone number, in a readily accessible place which allow them to consult help, and make a decision immediately.
Foster trust not just by using customer logos in your pricing page, but providing quotes and testimonials.
Distracted → Confident Recommendations
When users are distracted by your pricing page, they end up making the wrong choices. Improve the organization of information to provide focus for the user.
If you use a complicated value metric, make sure you explain it in a way that's easy to understand. Try using a visual aid like a pricing slider to make your pricing easy and intuitive to understand. Above all, make sure your users know exactly what they're getting at each price point.
Whenever possible, narrow down on choices presented to users.
Condense information using more concise language, tabs, toggle buttons, tooltips, bolding, italics, and more.
Discouraged Recommendations
If your pricing page leaves visitors feeling discouraged, consider not only a revamp of your pricing page but of your pricing scheme as well.
Reach out to customers, conduct qualitative surveys, and get on the phone with them. Go back to the drawing board on understanding who's buying, the value they get, and how much they're willing to pay.
Think carefully and closely about how your product provides value to users, and how to effectively communicate that value. Reconsider the value metric(s) you use to support your pricing plan.
Narrow the number of features that create plan segmentation to only the essential.
Users who tested Confident-quadrant companies not only understood the pricing behind each, but thought of how their own teams or businesses would go about purchasing each product. They left eager not only to sign up themselves to get started, but to recommend these companies to colleagues and higher-ups.
<< Chapter 1 - SaaS Homepages - Your Welcome Mat
Chapter 3 - SaaS Homepages - SaaS Marketing Site Organization >>